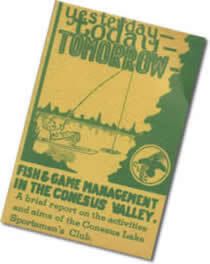 In 1938, Conesus Lake Sportsmen's Club (CLSC) was born. The club was begun by a group of local people who wanted a place to go to improve their hunting skills, keep and train their hunting dogs, and foster the ideals of conservation, forestry and environmental sciences.

Over the next several years, the club became home to many community organizations who needed a place to meet and grow. At one time during the 60's and 70's, the club grounds housed stock ponds for the DEC which grew and cultivated fish to be let loose into Conesus Lake to balance the ecosystem and provide fish for the growing population around the Livonia/Lakeville area.

Throughout the mid to late 1900's, CLSC worked with the DEC and NRA to provide hunter safety courses to hundreds of new hunters across the area.

CLSC is proud to be the charter organization for the Livonia Boy Scout Troop 4174; we are the only gun club in New York State that charters a boy scout chapter.

Other community activities include:
In addition, the club provides support to other local organizations, including COPS for Kids, Livonia Kiwanis, Geneseo & Livonia Schools, and local churches.